Last year around this time I had a baby, a husband who was recovering from a hip replacement, was planning a first year birthday party, and somehow had the genius idea that I should make all of my Christmas presents. I may have actually been certifiably insane.   I think the lack of sleep and nursing hormones combined to create an invincible feeling that I could do anything I wanted to.  
In many ways I am so glad I did this.  Giving a homemade gift can be more personal than giving a store bought gift.  The reactions really were great and I could tell people appreciated their gifts.  I should also say that we saved some money, but at the end of the day time is money, and time I most definitely did not save.  So, full disclosure: I will not do this again until my free time increases considerably.
However, if you want to tackle a DIY Christmas (bless your heart), who am I to stop you?  In fact, instead of stopping you, I am going to give you a list of ideas to make it happen.  God speed.  
First, start ASAP, like yesterday.
Second, all of these ideas were found on Pinterest and pinned to this board if you want to re-pin anything.  Also, I would be happy to answer any specific questions you have about any of the items.  
For women: magnetic make-up board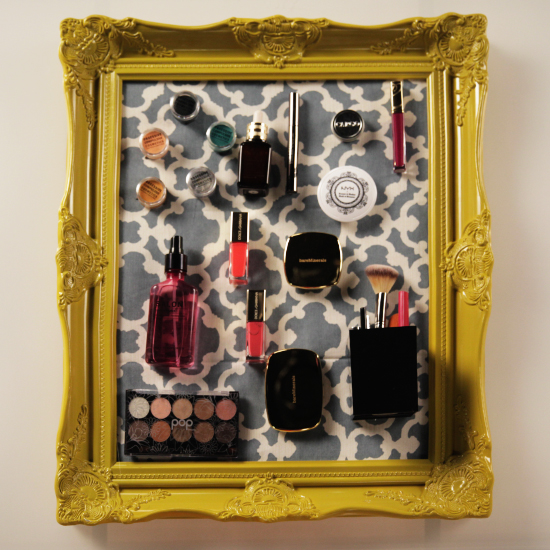 Video tutorial here.  I made one of these for many women in my life and myself and I use mine every single day.  I love it and it has made my bathroom look so much more organized.  I also added a few picture magnets of our family to make the board a little more personal. 
For men/women/hostesses: infused alcohol
We made cranberry infused vodka and gin following this tutorial and bacon infused vodka following this tutorial.  The bacon wasn't as pretty as the cranberries, but tasted better in Bloody Marys.  
For kids: roll up lounging pads
Unfortunately, the website with this tutorial is now private.  However, there is a similar tutorial here.  This was probably my most stressful gift because I had no idea how to sew.  My beautiful friend Kim helped me and we busted out 6 of those suckers in record time.  Click here for a similar (no-sew) project.  
For someone special: old picture slide lamp
 (image source)
Tutorial here.  This also takes a lot of time, but if you have the right pictures and the right person, this gift can mean so, so much.  My grandma had a lot of picture slides of my aunt and my dad when they were kids, along with pictures of her parents (their grandparents) and them.  Dan and I had a blast going through all the pictures to make the lamp, and even more fun watching them re-live the memories when they opened the present.  If you don't have slides of people you know, random pictures would be cool too.
For the family: silhouette kid pictures 
Tutorial here. I made these both for my sister's and brother's family and I think they turned out pretty cool.  You could also make them of all the grandkids for grandparent gift.s  Tip: get the profile pictures during Thanksgiving dinner.  
For everyone:
If you have kids, family members really just want pictures of them anyways.  I made a cell-phone cover, some picture collages, and stands.  My sister makes a calendar every year, which my family absolutely loves.  I use Shutterfly for these projects, and am very happy with the quality, customer service, and turn around time.  
Other ideas I loved, but didn't happen last year:
Do you have anything to add?  What is the best DIY gift you have given/received?