You guys - I don't think anyone could get this smile off my face.
Friday, my dad took me to lunch and gave me my birthday present a little early - a new bike!  
I know almost nothing about bikes, except for how much I disliked the fact that my previous one did not work the way I wanted it to, so when we walked in the bike shop I was slightly overwhelmed.
Not to worry, my dad is an avid cyclist, so I answered a few questions and he and Charley (an amazing employee at Turner's Cycling and Fitness ) decided on which bike would be the best for me. 
We (and by "we" I mean "they") decided on a x-road bike instead of strictly a road bike because I will likely ride some trails.  They settled on the Giant Rove 2.  
Isn't it beautiful?  
What do you do after you get a new bike?  Two things:
1. Sign up for a triathlon 
2. Go on a bike ride with the person who gave you the bike.
When my dad told me he wanted to go over 20 miles I almost fell off my bike.  
"Um, Dad, you know the race I signed up for is only 10 miles of cycling. Let's not get carried away here."
However, once I started riding my new bike I didn't want to get off.  The gears!  They actually moved the way I wanted them to!  The seat!  It stayed in one spot!  
We made our way to some trails and they were absolutely beautiful.  We even saw a few groups of deer.  The fawns are my favorite. 
I think I could get into this biking thing.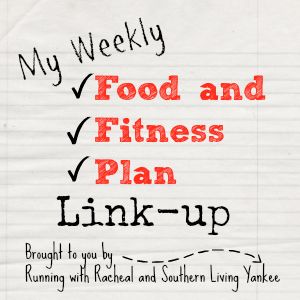 Food:
Sunday: out to eat for my brother and nephew's birthday
Monday: grilled steaks (Dan went to the meat counter by himself again) with roasted green beans and beets
Tuesday: small group game night: I am making this dip and a veggie tray
Wednesday: stuffed pepper casserole with sautéed kale 
Thursday: homemade pizza with roasted okra
Friday: airport food
Saturday: rehearsal dinner 
Fitness:
Sunday: rest
Monday: 4 mile run
Tuesday: 10 mile bike + 500 m swim
Wednesday: 3 mile run + arms
Thursday: 
Friday: 15 mile bike 
Saturday: rest 
What are you up to this week?