Happy Sunday!  
I hope your weekend has been fantastic so far.  Ours?  Notsomuch.
On Friday, after I told you about Ina being sick, she was OK for a few hours - enough for us to go on a run.  
Then, things went downhill fast.  She got sick in the shower a little bit.  Then she got sick all over the house a lot more.
I had already made a doctor's appointment for her suspected ear infection, so when we showed up the doctor was slightly confused, because apparently ear infections and upchuck don't usually go together.
But Ina is an unusual child, and she had some type of bug that made her completely empty her stomach all day, along with an ear infection, and cutting her canine teeth.  After taking some medicine, she eventually stopped, but was horribly sick all day and night Friday.
After changing my clothes 3 times, I eventually gave up and owned the vomit residue look.
She turned the corner Saturday morning, which Dan and I are so thankful for.  
She still has ear and teething pain, but is mostly back to her same old self - the one who empties the Jello container all over my freshly cleaned carpet while Daddy was supposed to be putting her down for her nap and put himself down for a nap instead. 
The week can only get better from here.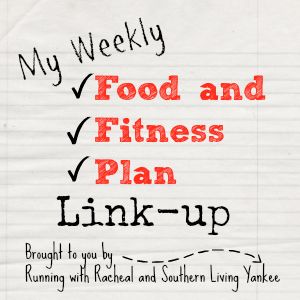 Food
Sunday: crockpot pork roast with roasted broccoli and summer squash cakes
Monday: almond meal chicken fingers with roasted beets and green beans
Tuesday: one pot wonder [will likely add some garlic sausage to the recipe]
Wednesday: leftovers
Thursday: spicy Thai beef with brown rice
Friday: church function
Saturday: spending the night at Granny and Papa's 
Fitness
Sunday: 3 mile run
Monday: sprints + sun's out, guns out arm burner
Tuesday: spin class
Wednesday: 1000 m swim
Thursday: 6 mile run
Friday: 3 mile run or video
Saturday: rest
 What are you up to this week?