Good morning and Happy Hump Day!
It has been some time since I shared a day of eating with you guys - mostly because I don't have time to photograph my food because I eat it and move on to the next thing.  Or because I don't know  where my phone is [the real reason].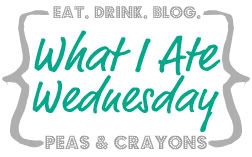 Yesterday I was able to capture almost everything - I started the day with unsweetened almond milk in my coffee + a few bites of Ina's "pupcake" [paleo zucchini bread I baked into muffins that she thinks are cupcakes].
Speaking of Ina, can I just brag on her for a minute?  Yesterday, while we were reading Chicka Chicka Boom Boom, she was looking at the page with the entire alphabet on it, pointed to the letter "O" and said, "Ooohhh."  
 [Throwback picture from our trip to Florida - look how little she was!]
You should have seen my reaction - it was like she won the nobel prize.  I danced and screamed, "You are so smart!"  Of course this made her point to other letters and say, "Oooohhh."  Ha!  
Yesterday she also did a full somersault all by herself - without any assistance!  It was definitely one of those days when I could see her getting bigger right in front of me.  
OK, back to food.
Breakfast - kale and feta egg scramble with blueberries
Looking back, I am really glad I had kale for breakfast, because I didn't a huge amount of veggies for lunch or dinner.  
Lunch: leftover chicken and bean and green bean bake
Snack: apple
Dinner: small group compilation of a burger, corn salad, and artichoke salad [with Ina's had trying to grab a bite].
I shared my plate with Ina, but we went back for seconds of the burger and salad. This was eaten all while Ina was all over the place, stopping occasionally to take a bite or spill my drink.  My next advice post will be "How to tame a child at the dinner table" when I figure it out.  So expect the post when she is about 9 years old.
Dessert: pineapple, blueberry, peach, and apple fruit salad
 I also did the T25 total body circuit workout, which I have decided is my least favorite.  
Have a great day!