Good morning!  I hope you had a fantastic weekend.  We are enjoying a vacation in San Diego, so I am taking the week off from blogging.  Don't worry - this is the first of 5 posts I have set to go up for you guys.  
I started reading Steph's blog about two years ago and have participated in a few of her charitable bake sales.  We also trained for a half marathon at the same time and were pregnant at the same time.  Now we are both new mommies at the same time, trying to figure out how to balance life.   As you can tell from the pictures below, Steph has it figured out (and also some adorable workout outfits!).  
So, I knew I had to ask her to give us a glimpse at her week  and host the link-up to let us know how she does it.  
Thanks Steph!
-----------------------------------------------------------------
Hi everyone!
I'm so excited to be guest posting on Racheal's blog. When she asked me if I wanted to share my food and fitness week, I immediately said yes! Being a new mommy - well my baby just turned one, so I guess it's not so new - finding the time to eat right and workout has become kind of challenging, but I know that it is so important for me, so I find ways to make it happen. Most of the time that means that I wake up and get to the gym by 4:30 to get in a good sweat session before Logan wakes up. But, now that it's starting to get warmer out, we're starting to transition our workouts outside.
So, here's how my week looks.
Monday: Legs and a run
I always do my run first, since I'm training for a half marathon, the run is more important to me right now and I want my legs to not be tired from my weight workout. Lots of lunges, step-ups, squats, and leg presses.
Tuesday: Chest and Back
My back muscles have now become my new favorite thing [mostly from carrying Logan around all the time]. I like to do supersets for my upper body to really burn out my muscles.
Also made some protein pancakes!  
½ c oat flour [ground up oats]

1 scoop protein powder

1 tbsp coconut flour

½ tsp baking powder

dash of cinnamon

2 egg whites

almond milk, enough to make the mixture in to a batter
Mix everything up and pancake away!
Wednesday: Arms and Abs
My favorite bicep exercise is 21's! Really pushes your muscles.
Dumbbell bicep curls, single arm hammer curls, 21's, tricep dips, tricep extension, Tricep pushdowns, lateral raises, arnold press, one arm dumbbell press.
Oh, and we're on a huge smoothie kick right now. Here's some of our favorites [I'll add protein powder to mine!] I also share a lot of my smoothie recipes on Instagram.
Thursday: Legs and a run at the park
Love getting out of the house and taking Logan along for my workouts.
Lately I've been so obsessed with huge salads and eggs [1 egg, 3 egg whites] on top! Such a great way to get in my protein, and I love the drippy egg yolk [yes I eat the yolk...good fat source!]
Friday: Long run for the half marathon training
I've actually started bringing my Nook and reading while I run. Makes these long runs go so fast! Just make the print a little bigger. People think I'm crazy, but I promise it's not that hard to do!
Weekend: Rest
I use Saturday and Sunday just to take a break, or go for easy walks around the park. Pushing hard all week and chasing after a baby means relaxing on the weekend!
Thanks for reading about my week! I'd love for you to come visit my blog, Steph's Bite by Bite, to see more of my fitness routines, recipes, and life with the baby!
----------------------------------------------------------------------------------------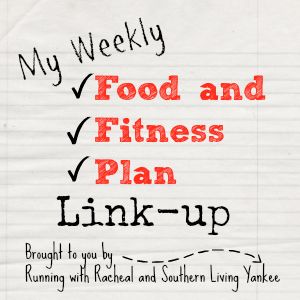 What are you up to this week?