Good morning! 
I just loved weekends spent doing weekend things.
We didn't end up going to the Royals game on Friday.  Instead I stayed home and made my Instagram wall, made dinner, and after the game was over and the kids (yes I have two) were in bed, I caught up on Game of Thrones.  
Yesterday was a productive day for our family.  We planted our garden,
fixed our riding lawn mower (oh happy day), and SOLD OUR BOAT.
Funny story.  Dan and I had casually talked about putting the boat up for sale, so on Friday, when I had some time, I listed it on Craig's List, thinking I would tell Dan when he got home from work.  Imagine his surprise when he had more than 20 people texting him within an hour.  Oops. Um, honey, just so you know, the boat is for sale.  
Last night we went to my parents' house to visit their brittany spaniel puppies. 
Ina was timid at first, 
but then she decided she liked them and gave them LOTS of kisses.
This week's plan:
Food
Sunday: birthday parties - I wonder if Dan will accept cake for dinner?
Monday: slow cooker chicken curry with brown rice and salad
Tuesday: small group - we are grilling at the park
Wednesday: grilled pork chops with roasted broccoli vegetable fried brown rice
Thursday: one pot chili cheese mac with roasted brussel sprouts
Friday: leftovers
Saturday - camping!
Fitness
Sunday: 4 mile run
Monday: extreme fit workout class
Tuesday: sprints + arms
Wednesday: rest
Thursday: YouTube video
Friday: 4 mile run
Saturday: rest
You will notice that there isn't a long run on that schedule.  After a lot of thought, I have decided to not sign up for the half marathon in June.  I haven't been able to find enough time in my schedule for long runs, and we all know that if you don't make enough time for something, it isn't really a priority.  I am still planning to run a half in October or November, but want to save most of the summer for quick, effective workouts.  I will talk more about this later, but running has become my "lazy" workout and I think I need to mix things up in order to get better.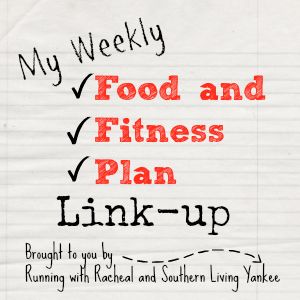 What are you up to this week?