Good morning!  Time for another guest post!  Today we have Kristin, from Exploring Domesticity.  Don't you just love the name of her blog?  Mine could be called Desperately Searching for Domesticity.  
I found Kristin's blog through Pinterest about a year ago.  It was love at first pre-made (but conveniently wrapped) freezer breakfast.  Seriously, pure genius.  I asked her here today to give us a round-up of all her quick go-to meals.  
I (almost) am looking forward to getting back from vacation so I can get started on some of these.  
Almost.  
Thanks Kristin!
-------------------------------------------------------------------------------------------
Hi all! I am beyond excited to guest post for Racheal! I'm a big fan, and I think Ina is such a doll! I'm Kristin and I blog at Exploring Domesticity, which started as a place to share my experiences learning all those domestic skills I never quite got the hang of when I was busy completing my masters degree in 2008, buying my first house in 2009, getting married in 2010, having my little guy in 2011, and having my little lady in 2012. By 2013, I was thrown into the roll of Stay-at-Home-Momma and, while I still focus on all things thrifty, crafty, and easy, my passion to create healthy habits for my family has emerged and taken the forefront over everything else. With kiddos who ask for broccoli over chicken nuggets, to wear their "running pants", and do squats, I think we're doing alright! It's still a work in progress, and I invite you to stop by and check it out! Today I'm sharing some of my favorite go-to convenience foods for myself and my family.
Convenience Food Roundup
Make Ahead Freezer Breakfasts
Frozen Breakfast Sandwiches I make these for my husband. He has one each day so I do a large batch assembly-line-style about every three weeks.
Egg Breakfast Muffins and a slightly Healthier Egg Breakfast Muffin I used to be notorious for skipping breakfast, especially when my daughter was a newborn and my son was one. These were a lifesaver! I'd pop two out of the freezer and into the microwave and be good to go.
One Recipe, So Many Meals
Black and White Bean Salad. I never would have expected this recipe to be a favorite of mine, but I absolutely love it! I adapted a Weight Watchers recipe and I use it for so many meals! I need to learn how to can things, because this would be awesome to have in the pantry. I rarely eat this as a salad but I've used it in all sorts of meals: flatbread pizza, salads, burritos, cooked inside spaghetti squash, on eggs, etc
Craving Pizza???
100 calorie Frozen Pizza Snackers. I'm so in love with these! They taste amazing and come in at about 100 calories, even less now that I've found Sargento Ultra Thin provolone slices. They are perfect to satisfy a pizza craving without wrecking your day, and they're a great meal for the kids!
Before I go, I want to thank Racheal So much for inviting me! Also, I want to share with you a quick little springtime pay it forward I did with the kids.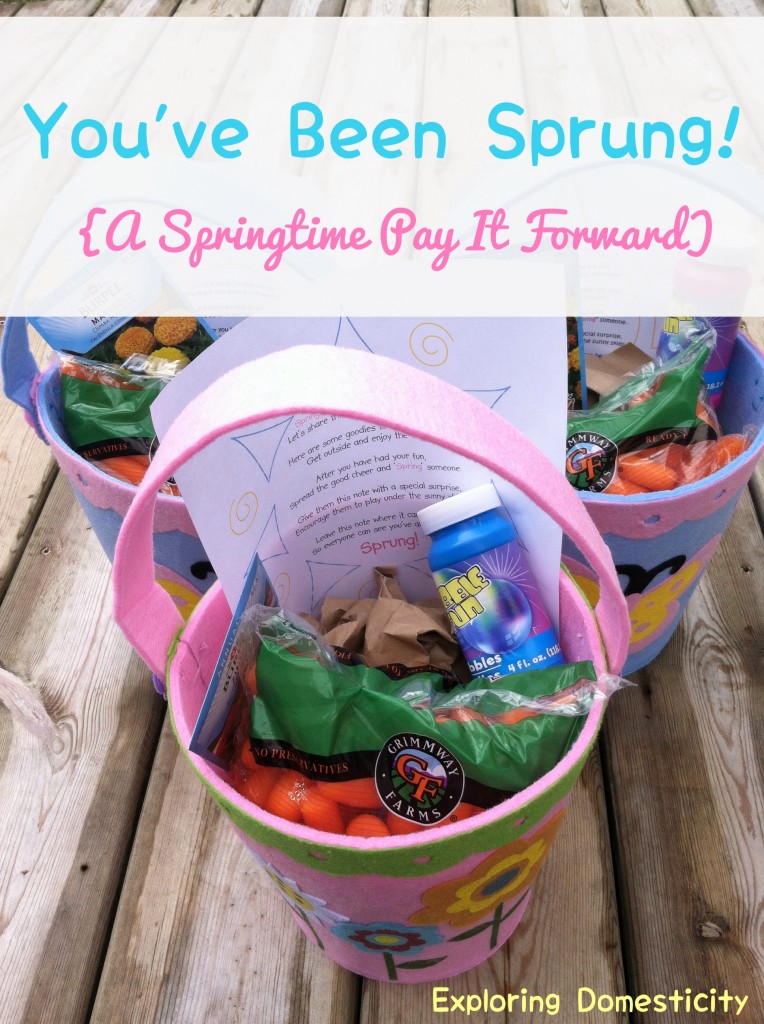 We gathered a couple items to encourage activity and healthy snacking and delivered them to the neighbors. So fun!  What are your favorite convenience foods? How do you pay it forward? Stop by Exploring Domesticityand let me know!