Good morning!
I hoe your weekend is going fantastic!  I started mine off on the right foot (feet?) by knocking out 8 miles.  
Whew, that feels better.
Our family is off on a service project trip with our small group this weekend.  
I am super excited about this, because it is our first big project together and I just can't wait to see what God is going to do through our little group.  
I will be back tomorrow morning to tell you all about it.  
For now, here is my food and fitness plan for the week.
Food
Sunday: driving home - probably eating leftovers
Monday: one pot chili mac and cheese with broccoli
Tuesday: small group - so thankful for those who help me out with cooking dinner
Wednesday:  apple cheddar stuffed chicken with asparagus
Thursday: roast chicken with potatoes and carrots and whatever veggies we have in the fridge
Friday: celebrating my friend Meghan's birthday
Saturday: VACATION
Fitness
Sunday: rest
Monday: 3 to 4 mile run
Tuesday: spin class
Wednesday: 3 to 4 mile run
Thursday: 9 mile run
Friday: sprints 
Saturday: rest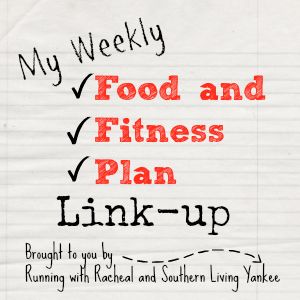 What are you up to this week?