Good morning!
I hope you have had a fantastic weekend.  Our has been bursting with activities in the best possible way.  So much so that showers have been a luxury and our lunch from yesterday is still on the table.  Well, the parts that the dogs wouldn't eat.  
Now you know.
After work on Friday I immediately changed into my running clothes and met Kim for a 6 mile run.
It was so nice outside, we couldn't have asked for better weather.  After we snapped that pic, I ran inside, quickly changed clothes, and hopped in the car to go to our friends Nick and Michelle's house for dinner.
[smoked chicken, lemon rice, and zucchini / squash - so good!]
After dinner we played with the kids.  So fun to see Ina actually playing with other children instead of just staring at them.  
When we got home, Dan and Ina went to bed and I watched Veronica Mars (the movie). It was awesome.
Saturday morning I worked for a few hours, then Ina and I headed to the community center where I took advantage of the $1.50 daycare while putting in a few laps.  
Next was a little pedicure / make-up testing at my cousin's Mary Kay party.  
I may or may not have spent 3 months of our toiletries budget.  
I walked in the door just as Ina was waking up from her nap and we went to Target.  (Raise your hand if you wait until the last minute to buy birthday presents too.)
We stopped by our town's St. Patrick's Day parade, which we all loved.
Ina loved seeing the people, Dan loved all the motorcycles and old cars, and I loved having my family together.
This was the first time we have busted out the wagon and it worked well.
Lastly, after the parade, we went to Danielle's (my friend / running buddy and Ina's babysitter) birthday party.  
We had met a few of Danielle's friends / family before, but I must say that I have never walked into a place where I really knew almost no one and felt so welcome.  We all had a great time, especially Ina, who found many stairs to go up and down and many people who would pick her up and take her outside.  
Oh, and the food was amazing.
Today we are going to church, going out to eat for lunch with Dan's dad, step-mom, and sister, and then crashing on the couch.
Oh, and cleaning up yesterday's lunch.
Maybe.
This is a very short week due to our mini-vacation!
Food
Monday: smoked corn beef with roasted green beans
Tuesday: small group - my mom is making corned beef and cabbage
Wednesday: Leave for Vegas
Thursday: In Vegas
Friday: In Vegas
Saturday: In Vegas
Fitness
Sunday: 3 mile run
Monday: bike 12 miles
Tuesday: 1200 yard swim
Wednesday: 5 mile run
Thursday: In Vegas
Friday: In Vegas
Saturday: In Vegas
I have decided that I am not going to bring workout clothes to Vegas.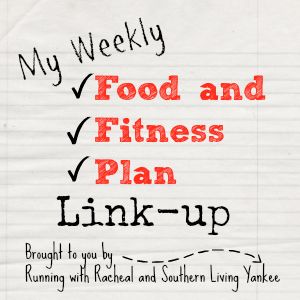 What are you up to this week?