Good morning!  
I am giving a lecture later on today, so I have to make this short and sweet.  I want to go over my notes one more time. 
I thought this would be the perfect opportunity to link-up with What I Ate Wednesday.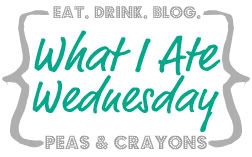 Breakfast: brown rice, coconut, coconut milk, and chia seed breakfast bowl topped with strawberries.
Unpictured snack: chopped salad with almond butter dressing.
Lunch: leftover chicken bean bake with roasted brussel sprouts.
Afternoon snack: a few figs 
Dinner: roasted chicken, veggies, and this kale salad (minus the sugar in the dressing).
Dessert - mixed fruit
I don't have a picture of Ina to share, but I do have a picture of the valentine she made at daycare.  
So sweet.  
Have a good one!