A horrible thing happened yesterday.  I was in the process of taking a picture of three adroable babies with my phone and it wouldn't let me.  
Storage space full.
So I deleted two pictures.
Still full.
Sucko.
So, after I publish this post I am going to weed through my 3000+ pictures on my phone and only keep the absolutely important ones.  Hopefully I will get down to 1500.
Unfortunately, I didn't capture any pictures of my mom's side of the family holiday get together yesterday evening.  Maybe it was better I didn't try, because there is no way a picture could capture how full my house was.  Seriously, people were tripping over toys and running into each other all night.  Despite the fullness, it was fun to have the family together in one space. 
BUT, I did get some pictures of my little family playing at the gymnastics gym we visited for one of our friends' birthday party.  
I thought this was such a cute idea!
I might steal it for Ina's party next year.  
If yesterday was any indication, I know she would have a great time.  She especially loved the bounce house and going down the slide and watching others go down the slide and trying to climb up the slide. 
She liked the slide.
Dan is going back to work on Monday, which means he likely won't get home until it is time to eat.  Gone are the days when he would play with Ina while I am cooking dinner or cook dinner while I am playing with Ina.
To solve this problem I designated a permanent spot for my slow cooker on my counter space.  
Food
Fitness
Sunday: rest
Monday: 3-4 mile treadmill run
Tuesday: spin class
Wednesday: 3-4 mile treadmill run
Thursday: 20 minute HIITon the treadmill and pushups
Friday: rest
Saturday: 6 mile run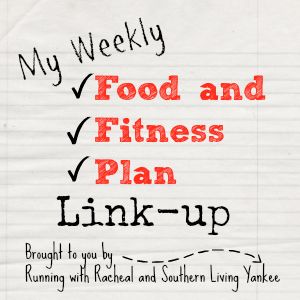 What are you up to this week?