Good morning!
Ina and I slept in this morning.  She is eating Cheerios.  I am drinking coffee.
Any spelling or grammatical errors can be blamed on her.  
This weekend was very different that ususal for Dan and I.  Both Friday and Saturday night we did something that required us to not be in our PJs by 7:30. 
It was fun.
Friday night we went to my part time job's Christmas party.  
Good times were had by all.
Last night we went to murder mystery dinner / anniversary party.
Dan was the controlling older brother of the groom and I was the trashy, gold digger mother of the groom.  Dan bought my dress at a thrift store, and I teased my hair as high as I could get it.  
It was so fun, but so hard to stay in character.  Except when I was playing the part of Dan's mom, which surprisingly, sounds a lot like what I say as his wife.  Hmmm, maybe I should work on that?
Even more fun, Dan ended up being the murderer!  
Shame.  
Dan's parents stayed at our house all weekend, so we had built in daycare, which was really nice.  
We tried to take Ina to see Santa yesterday, but it wasn't in the cards.  We are hoping for a visit later this week.  
Food
Sunday: Dan is going to make chicken and noodles
Monday: salmon cakes with roasted green beans
Tuesday: small group - meal provided
Wednesday: crock pot pork carnitas
Thursday: Sunday night beef stew with slightly less rich ingredients for the potatoes part
Friday: leftovers / out to eat
Saturday: leftovers / out to eat
Fitness
Sunday: If all the stars align I may get in an afternoon run, if not I will do squats while wrapping presents
Monday: 4 mile treadmill run
Tuesday: spin class
Wednesday: rest
Thursday: sprints
Friday: 4 mile treadmill run
Saturday: rest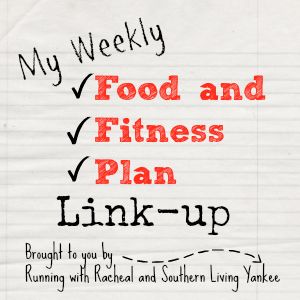 What are you up to this week?