Hi!  Do you remember me?
I took a little break from blogging, partly from the holiday, but mostly because I forgot to bring my blogging computer to my grandma's house.  #FAIL.
Also, I was pretty busy prepping for Ina's first birthday party, which I will post pictures of tomorrow.
A few pics to sum up my Thanksgiving break:
We climbed lots of stairs. 
Ate lots of mashed potatoes.
Or used mashed potatoes as hair gel.
Played lots of cards.
Pretended to be pirates and ninja turtles.
And slept a little in between.  
I also managed to get in a 7 minute workout and two runs - one solo and one with my sister.  
This was a wonderful week to kick off the holiday season.  We tried to soak in every second of family time.  I am looking forward to the next month with so much enthusiasm I can barely stand it (composing a Christmas-to-do list now).
I do, however, feel like I need a little food detox in between now and Christmas.  I enjoyed the holiday experience and am now ready for some vegetables (that aren't doused in butter) to be back in my life.  
Here is this week's plan: 
Food
Sunday: leftovers
Tuesday: Small group - I think we are ordering pizza but I will likely make a salad to go along with it.  
Wednesday: roast chicken, potatoes, carrots, and onions
Thursday: Mediterranean chicken and potatoes
Friday: leftovers / out to eat
Saturday: leftovers / out to eat
Fitness
Sunday: 100 burpees - the Elf4Health challenge of the day!
Monday: 4 mile run with Kim
Tuesday: spin (will someone call me at 5:15 on Tuesday morning to make sure I am going?)
Wednesday: rest
Thursday: 3ish mile speed treadmill workout
Friday: rest
Saturday: 6 mile run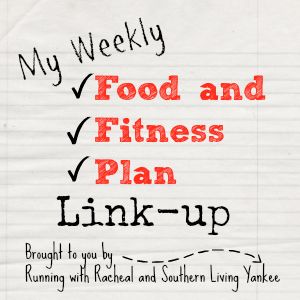 What are you up to this week?  How was your holiday?