Yesterday I had three kids: my 3 year old nephew Kauffman, 18 month old niece Hallaway, and Ina.   
We had quite a day.  We started out at my grandparents' house in Garden City.
(attempted nap time)
We left there to visit my other grandma in the hospital.  She fell and broke her pelvic bone.  She is doing great considering, but prayers are appreciated.  
We stopped by the park on the way home.
I am now convinced that the park was the secret to my success.  
It was a blast.  
After the park we came home I bribed Kauffman with Teenage Mutant Ninja Turtles, Hallaway with cheese and books, and Ina with peas, so I could make dinner.  
I made this one pot cheeseburger casserole (thanks Leila!) with brown rice noodles.  It was good and simple.  (If you make it don't skip out on the lettuce and dill pickles - they take it to the next level.) 
After bath time, pajamas, and prayers, all the kids were asleep in separate beds by 8:30 PM.  
As I went to bed I felt like I deserved an olympic medal.  I have no idea how people do this daily and I give major props to anyone who does.  
I could easily see why.  Having three kids in the house made it more alive, more active, more fun. When I was reading Kauffman a book he wrapped his arms around my neck and said, "I love my Racheal."  Melted my heart.  
Hallway kept on picking her head up to give me kisses when I was rocking her to sleep.
Ina cried.  
Baby girl has a slight jealousy problem.  
Having them here of course has me thinking how and when the next Baby Kendrick will come.  I think I need a few more years of rest first.  Ha!
Here is my tentative plan for the week: 
Food
Sunday: white chicken chili
Monday: shepard's pie
Tuesday: small group - I just realized we don't have a plan for dinner.  I will get on that.  
Wednesday: pork roast with carrots, potatoes, and onions
Thursday: crockpot spaghetti sauce with salad 
Friday: leftovers / out to eat
Saturday: leftovers / out to eat
Fitness
Sunday: attempting to get in a run today
Monday: 3-4 mile run with Kim
Tuesday: spin class
Wednesday: off
Thursday: interval treadmill work
Friday: off
Saturday: longer run - 6ish miles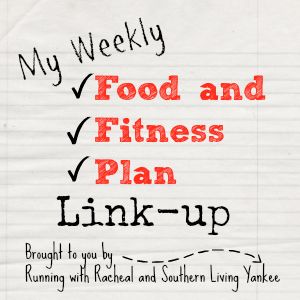 What is your plan for the week?