Good morning!  
I hope your weekend is going well.  So far it seems I am having one of those weekends that feel like 4 weekends split up.  You know what I mean?  
On Friday I got home from work and found that Dan had lit a fire outside after doing some yard work. 
Ina and I were afraid there might be more yard work left to do, so we went for a run with Kim and her friend Kim.  
After the run we made breakfast for dinner and hung out by the fire the rest of the night. Ina loved it.
Saturday I woke up bright and early to run with Danielle.  We put in 5 windy miles.
After my run I worked for 3 hours while Dan and Ina played and then did a little shopping for supplies for my Christmas present making.  (Remember, I plan to make all my Christmas presents this year.  All 30 of them.  Whew.)
Kim came over to teach me how to use her showing machine.  That woman is a saint!  
Wouldn't you like to know what I am making?  Sshhh!  Christmas secrets!  
After that I went grocery shopping at a place that only takes cash or debit card and forgot my cash and debit card.  Fail.
Then our friends Brad and Chessa and their son Silo stopped by for a while.
That brings us to today, which isn't looking any less busy.  
Food
Fitness
Sunday: rest
Monday: 3-4 mile run with Kim
Tuesday: spin class
Wednesday: rest
Thursday: treadmill speed work
Friday: Soli Beat
Saturday: 5 to 6 mile run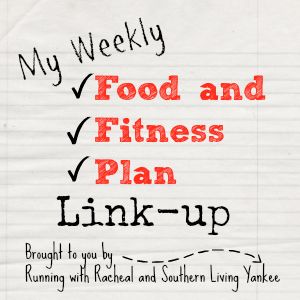 What are you up to this week?