Oh man, last night was a doozy.  
From midnight to 7 am (when I finally gave up on trying to go back to sleep) Ina screamed on and off, with 15 minute intervals of sleep here and there.  This almost never happens, but I did see two more teeth popping in, so I am hoping she starts to feel better soon.
Poor girl.  
Poor Ma (Dan's new name for me).
Coffee and I are going to be very good friends today.
I should have known something would happen, because other than last night's shennanigans, we have had a fantastic weekend. 
Friday night Kim and her husband Mike took us out to eat for dinner. 
Saturday morning my mom came over and watched Ina while I worked for a few hours and Dan helped my dad on his building.  
During Ina's nap I threw dinner and dessert in the crockpots.
I did my best to "healthily" these two recipes:
Crockpot mac and cheese - used brown rice noodles and added broccoli
Crockpot apple crisp - OK, I will admit, I followed that recipe exactly (with GF flour) and it was delicious
When she woke up we went on a run / swing / walk in this beautiful fall weather.
The three miles really put it to me.  I couldn't believe only a week before I was running 13.1 miles.  Crazy!
Last night our friends Ashely and Brady came over and we watched the season finale of The Newsroom.  
(Having friends that love your kid is the best.)
So, I plan to just block last night out of my memory and have a rocking Sunday.  
Here is this week's plan:
Food
Monday: roast chicken with potatoes, carrots, and onions
Tuesday: small group - someone else is making dinner
Wednesday: asian turkey meatballs with brown rice and broccoli
Thursday: our favorite marinated chicken (baked) with baked sweet potatoes and salad
Friday: we will likely go out to eat
Saturday: going to a wedding
Sunday: winging it
Fitness 
First, I have a confession to make.  For the last three weeks I have "planned" to go to spin class on Tuesday mornings but have yet to actually go.  That is changing this week.  Probably.
Monday: 3 mile run with Kim
Tuesday: spin class
Wednesday: Jillian Michaels Ripped in 30 Level 2
Thursday: 3 mile run
Friday: 6 mile run
Saturday: rest
Sunday: rest / short run or walk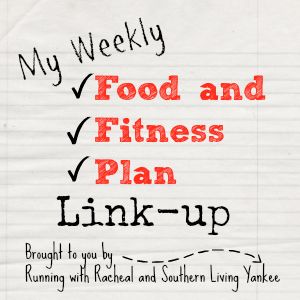 What are you up to this week?