Good morning!
The CIO method has worked - Ina has slept through the night the past 3 nights.  I woke up this morning so refreshed, I felt like I could run 13.1 miles.
Oh wait,
I did that yesterday.
Let me re-phrase that.  I woke up this morning and felt like I had run 13.1 miles.  
Even the front of my ankles are sore.  
Danielle and I ran the entire race right next to each other.  My goal was just to finish the race, but Danielle had other plans.
(Danielle, Kelly, Anya, Amanda (my cousin), and moi.  This was Danielle and Amanda's FIRST half!).  
Not only did we finish, we rocked it, and I was only a minute and a half away from my half PR!  
I felt great the whole time.
(Right before the race started I ran into Kim who DID PR!!!)
I am calling this my AIPR (after Ina personal record).
I came home to a sleeping baby and husband, so I defrosted my bones in the shower for the next 30 minutes and then Dan made me brunch while I sat under a cover for the next two hours - it was cold out there. 
When I finally warmed up we wrestled Ina into her Halloween costume and went to a little fall festival for my dad's work. I will share pictures tomorrow.  
Today I am going to try my hardest to get in some food prep.  We shall see how that turns out.  
Food: 
On a side note, I just looked at my calendar and realized I have no plans this weekend.  Who wants to hang out?  Please, everyone, don't volunteer all at once. 
Fitness: 
Sunday: rest
Monday: rest
Tuesday: spin class
Wednesday: 4 mile run
Thursday: rest
Friday: 3 mile run
Saturday: Something fun - maybe a family walk?
Making this list seems very weird now that I have nothing to train for.  It looks like I will need to find something to keep me motivated and accountable over the winter.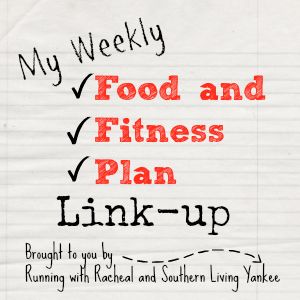 What are you doing to stay motivated?  I'd love to hear about your week.