Good morning!  
I hope you had a great day yesterday. 
Ina's was wonderful.  
She learned how to stand without holding on to anything (!!!) and discovered how to get into the cabinet in the living room where we keep Dan's old hot wheels for my nephew.  
After about 5 minutes of standing in the cabinet she decided to have a seat and spent the rest of the night there.  It was amazing how she knew to put the wheels on the ground and move the car along.  
In fairness, she also spent a lot of time sticking cars in her mouth (don't worry, we made sure nothing was ingested), so maybe the wheel thing was by chance?   Either way, Dan was one proud pappa bear and is now convinced she is going to be a "car-girl."  
Today I thought I would link up with What I Ate Wednesday.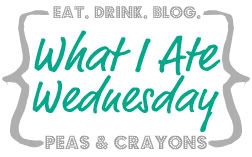 Meal planning is helping so much - you should try it! 
Breakfast - a spinach and feta omelet with berries
Lunch was kind of throughout the day because I had my teeth cleaned over my actual lunch.  
I snacked on a leftover turkey burger, tomato, cucumber, and onion salad, 2 hard boiled eggs, some strawberries, and some Greek yogurt with applesauce and cinnamon.  (I am pretty sure that is a sentence straight from The Very Hungry Caterpillar)
After work I had an unpictured handful of nuts and a cheese stick.
Dinner was crockpot spaghetti sauce with brown rice pasta and roasted eggplant.
Dan, Abby,  and Ina had regular pasta.  
Oh my. 
Dessert - a handful of chocolate chips.  
Have a blessed day!