Good morning and Happy Sunday!
How is your weekend treating you?  Mine is going well - yesterday morning Danielle and I busted out 8 hilly miles,
 and then we drove down to Dan's parents' house
to squeeze in another swim
before they close their pool.
Here is my plan to rock this week out: 
Meals: 
Sunday: Dan turkey burgers on the grill with sweet potato fries
Tuesday:
meatloaf
with green beans and mashed potatoes 
Thursday: build your own pizza
Friday: my birthday - going out to eat with family 
Saturday - going to a wedding where I will eat cake 
Workouts:  
Sunday: 12 mile bike + one mile run
Monday: rest
Tuesday: 3 mile run
Wednesday: 6 mile bike + 500 meter swim
Thursday: 3 mile run
Friday: rest
Saturday: TRIATHALON RACE DAY!!  (prayers would be greatly appreciated)
Whew, it is going to be a busy week!  What are you going to be up to?  
Want to join in as we help each other plan and stay accountable?  It is easy.
1. Grab this button: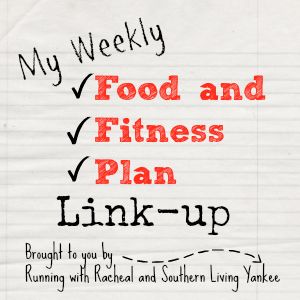 2. Create a post telling us your plan to make this week awesome (and add the button to it)
3. Add the link to your published post below
Don't hesitate to ask me any questions!
Dan's family member Stacie doesn't have a blog, but she did tell me what her plan was last week which I loved it so much and wanted to share with you:
I can never get 60 minutes in a row dedicated to exercise so I am trying to do 15 minutes of stretching/yoga in before work, 10 minutes of power walking on each of my breaks for 30 total minutes of cardio, and then 15 minutes of resistance/

weights after work. Food focus this week is "plate planning" with half the plate whole fruit and veggies, 1/4 whole grain carbs and 1/4 lean protein. Continuing to count the calories, trying to stay under 1200/day and keep white sugar, white flour, and saturated fat off the plate.
Isn't that awesome!?!  I feel like that is a simple, but wonderful plan. :)  Thanks Stacie!
Have a blessed Sunday!