Good morning!
One of my new goals lately is to try to focus on what I am thankful for (instead of always complaining).  I also love the feeling of community that comes from the weekly food and fitness plan link-ups on Sundays.  So, I thought I would start another link-up on Thursdays called Thankful Thursdays.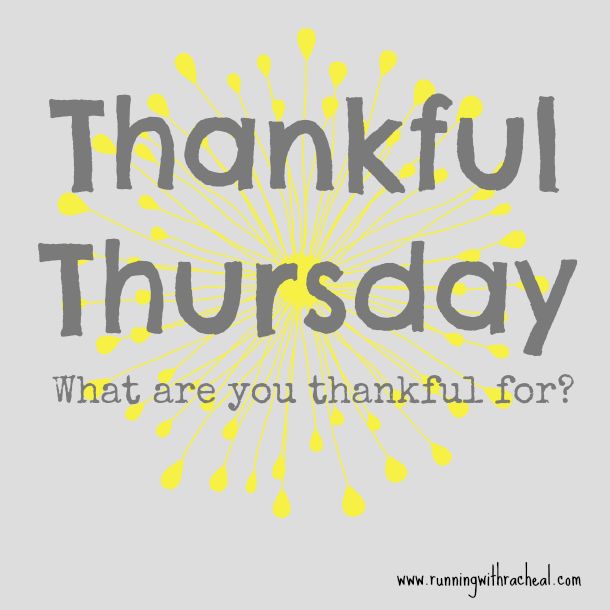 Too much?  Probably.  If you want to join, grab the button each week, write a post about what you are thankful for, and link-up. 
Today I am thankful for:
- Coffee.  Particularly the blueberry muffin variety.  Seriously, how do people get out of bed without knowing coffee will be waiting for them?
- Morning hair
- Safe items to play with in my bathroom cabinets.  Yesterday I was able to put on make-up AND curl my hair while Ina played with my box of nursing pads.
- The fact that I was asked to lecture at UNC AND that those lectures are over.  I love lecturing there, but I always get so stressed out about it.  
- Cherry tomatoes.  Ina is REALLY thankful for cherry tomatoes.  
- Family dinner time.  At the table.  Dan and I holding hands to pray and attempting to hold Ina's hands while she tries to eat the peas on her tray.  
- Grilled pork chops.  I used this marinade recipe and served with baked sweet potatoes and a salad.  
- Flowering plants that come back every year
- Overgrown brussel sprout plants and the ability to Google, "how to harvest brussel sprouts"
- Bath time - Ina has started to notice her reflection in the water spout.  So funny.
- Dr. Suess's Sleep Book
- One hour of quality husband-wife time last night (<-- thanks to Dr. Suess's Sleep Book).  We just watched TV together, but it is still something that doesn't happen often because as soon as Ina goes to bed so does Momma.
- All of you guys!  Thanks for reading everyday!  Muah!