Good morning party planning people!
How is your weekend treating you? 
Mine has been great!
We had dinner with the fam Friday night.  The only GF options were salad and french fries - guess which one I loaded up on?
Those little buggers felt like acid in my stomach for the first 4 miles of our supposed-to-be-10-mile run on Saturday morning.  About 8 miles in Danielle and I realized that the sky was going to open up on us at any second, and by 9 miles I was caught in the middle of a down pour.  An extremely sweet woman stopped and picked me up about a half a mile from my house.  I told her she saved my iPhone's life!
The rain cancelled my cider-mill plans, so the rest of Saturday was spent cleaning
and playing.
The kid is a genius - she can already spell her name!
Last night we met up with our friends Meg and Nigel to eat Thai while my mom watched Ina.  (Thanks Mom!)
Today's plans are completely up in the air.  Church.  Grocery shopping.  Who knows, maybe a trip to Home Depot?  
Hopefully I will have time to prep for this week's meals: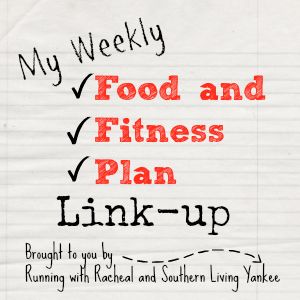 Food:
Monday: roasted eggplant spread baked over chicken and topped with goat cheese - served with pasta
Tuesday: We are hosting our first small group!  We are having build your own tacos / burritos with rice and beans.  Still trying to think of dessert ideas - any GF ideas?
Wednesday: almond butter crockpot chicken
Thursday: leftovers (aka - eat everything that could go bad in the fridge)
Friday - Sunday: VACATION
Breakfasts: apple oatmeal muffins
Fitness:
Monday: 4 mile run
Tuesday: spin class
Wednesday: off
Thursday: 30 minute run
Friday: longerish run - maybe around 8 miles?
Saturday: I hope to get in a 3 mile run around Nashville with my sister
Sunday: off
I hope you have a blessed week!  How are you going to make it awesome?