Good morning and Happy Sunday.  How has your weekend been so far?
Mine has sufficiently worn me out.  Both nights my head hasn't hit the pillow until around midnight which is a HUGE deal for me.
Friday night we went out to eat for a family member's birthday.
Saturday morning Danielle and I knocked out 9 miles - good thing because our half marathon is in less than a month.  
Then I did the grocery shopping, played with Ina, (a box - her new fave toy)
and dropped her off at grandma's so that we could go on a little date.
Thai curry FTW.
We also stopped by the plaza art fair for a few hours, only to look at a whole bunch of cool stuff that wasn't in our budget.  
Don't worry Dan, one day we will be able to afford that $4,000 1 foot water tower replica. One day. 
Today I have 45 hours worth of stuff to do, so let's get to this.  Here is my plan for the week: 
Food
 Fitness
Sunday: walk to the park
Monday: JM Ripped in 30 Week 2
Tuesday: 3 mile run
Wednesday: 4 mile run
Thursday: 3 mile run
Friday: off
Saturday: 10 mile run - yikes
How are you going to tackle this week?  I would love to hear about it!
1. Grab this button: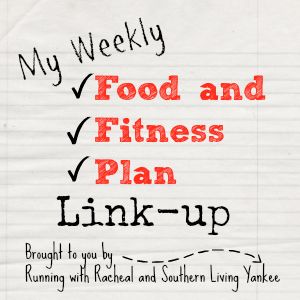 2. Create a post telling us your plan to make this week awesome (and add the button to it)
3. Add the link to your published post below
Have a lovely Sunday!