Good morning!
I hope you are having a fantastic weekend!
Mine has taken a turn for the worse - I woke up this morning to a house without a drop of coffee in it and my phone isn't working.  
Other than that things have gone well - I finished my first triathlon (more on that on Monday),
and then I went to a beautiful wedding.
I love getting dressed up!  
Ina spent the night at my grandparents' house last night, and I took advantage of that by staying up until 11 PM.
Party animal.
Anyways, this week is going to be pretty busy - here is my plan is keep my head on straight.
Food
Fitness
Monday: 3 mile jog
Tuesday: 12 mile bike
Wednesday Ripped in 30 Week 2
Thursday: 3 mile jog
Friday: rest
Saturday: 9 mile run
Sunday: rest
How are you going to tackle this week?  I would love to hear about it!
1. Grab this button: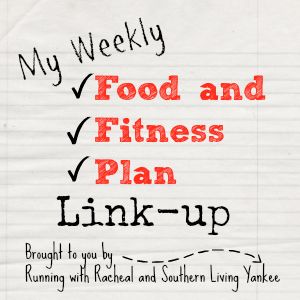 2. Create a post telling us your plan to make this week awesome (and add the button to it)
3. Add the link to your published post below