Good morning and Happy Sunday! I hope you all are having a blessed holiday weekend.
Welcome to the first official weekly food and fitness plan!
Here is what I will be up to this week:
Food
Sunday

: ham and beans with GF cornbread and salad (Dan has been begging for them and we all know how much Ina loves beans)
Monday: stuffed peppers with mixed veggies
Tuesday

: baked pesto chicken (I think I am going to add some reduced fat cream cheese to the mix) with roasted squash and pasta
Friday:

Dan's turkey burgers (I hope to capture is recipe!) with sweet potatoes and some kind of veg
Saturday

- Free for all / out to eat

Fitness
Monday

: longerish run with Danielle - hopefully 6 miles
Wednesday

: 12 mile bike / two mile run
Friday:

700 yard swim / two mile run
Want to join in as we help each other plan and stay accountable? It is easy.
1. Grab this button: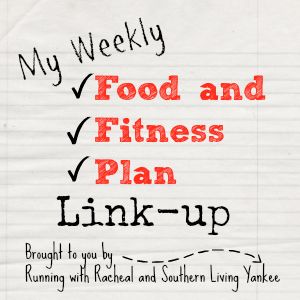 2. Create a post telling us your plan to make this week awesome (and add the button to it)
3. Add the link to your published post below
I can't wait to see what you guys have planned for this week.