Is it bad that I let Ina play in the dog bowl?
At first, I was thinking, no-no, we can't get into that habit.  But now, I am thinking, if I can find anything to keep her safely entertained and not playing with the wine bottles for 5 minutes while I cook dinner, I am okay with it.
We might have dog bowls in every room of the house.
The dogs will be very well hydrated.
One thing that has been nicer this week is having my meals planned out. When I get home from work at the end of the day, I don't want to think anymore.  Knowing I have all the ingredients to create a well rounded (edible) meal makes me feel a littler more prepared to battle the day / week.
My list of this week's workouts is also keeping me motivated.  On Tuesday I really didn't want to go to the pool, but then I remembered that I told all of you I was going to swim, so I felt like I had to.
Bullies.  
So, when Deneene from Southern Living Yankee apporached me about starting a blog link-up with weekly meal and workout plans, I was pretty excited.  I know posting my weekly plan will help keep me accountable and reading others' weekly plans will help keep me motivated. 
Really, it is a win-win for me (and you!).
We would love for you to join!  
Here is our button: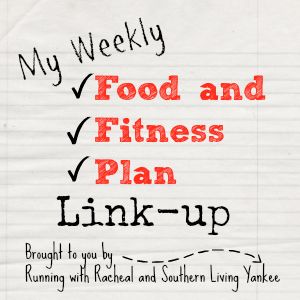 Every Sunday morning I will post the link-up and you have until Monday evening to post your post and join the par-tay.
Our first post will be this Sunday, September 1st.
Hope to get to know you guys a little bit better. <3
Have a good Thursday!