(Yes, this post title does require three exclamation marks.)
I use all types of entertainment to get me through my workouts--movies, TV shows, music, and even books. If and when I do listen to music I trust my professionally tweaked Pandora station to choose songs that will put a little pep in my step. I don't own music. My itunes account is empty.
That, my friends, is about to change. During my
half marathon
(which is less than 3 weeks away!) I can't afford to leave the music selection up to Pandora. What if it gets on a ballad kick? I love Celine Dion as much as the next girl, but "My Heart Will Go On" isn't going to get me through 13.1 miles.
After some careful calculations, I decided I need approximately 40 of the best running songs out there.. But, as I have been out of the music downloading game for quite some time, I have no idea where to start. I need help!
What is your favorite workout song?
Any suggestions?
Help me out and leave a song or two in the comment section below. If you do, you will be entered for a chance to
win an $25 iTunes gift card
. To
double
your chances of winning,
like Running with Racheal on Facebook.
(Please forgive the just-got-off-the-treadmill-look in the picture).
I will announce the winner after the giveaway ends Saturday morning (2/11/12).
Eats
I post what I eat
everday
, but the past few weeks I have also been participating in a link up party at
Peas and Crayons
. It is so fun to see what
everyone else
eats, because I am super nosy like that. If you are too, go check it out.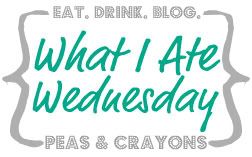 Parfait (7)
My lunch packed a lot of protein and veggies (click
*here*
for the egg salad recipe).
Lunch: egg salad (4), cucumbers, butternut squash soup (1), and 34 crisps (1)
Drive home snack (5)
I was cold all day long, so chili sounded perfect when I got home. I used
*this recipe*
to make White Chicken Chili. I used black eyed peas, butter beans, and navy beans, and then added a can of corn. I also increased the chicken a bit, doubled the spices, and used fresh, instead of canned, jalapenos.
White chili (12)
Mmmm...it was caliente and filling too.
Dessert was a cup of bran flakes (4) and 2% milk (3)--not picture worthy.
Run
I packed my clothes to run at work during lunch, but forgot to pack my shoes (typical). I just wasn't feeling it when I got home, but still managed to run 3 miles while reading The Scorch Trials.
Thought Picture for the day:
I could not stop laughing when I saw this picture. I think it is because I know exactly how this kid feels. What a cutie.
Daily points (31) + Running points (6) - eating points (37) = 0