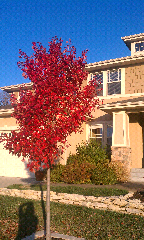 The outside run was cancelled this morning because I was scheduled for a 7 am meeting. So, I woke up at
4:15 AM
and ran 4.8 miles on the treadmill while catching up on
New Girl
only to find out that my meeting was CANCELLED. (Good thing I check my work email at home). I'm sad I didn't get a chance to run outside on this beautiful morning, but happy to catch up on a funny show. There were a few times I thought I might have to stop running because I was laughing so hard that I couldn't breathe. I had to stop watching
Modern Family
on the treadmill for that very reason.
When the sun finally came up I noticed that the tree in front of my house has turned the most beautiful color. I have no idea how long it has been this way because I park in the garage. I know I should probably notice when I leave the house or when I get home, but when I leave in the morning I am thinking about what I have to do at work, and when I come home I am making a check list of chores. So there you have it.
Have a wonderful day!